Try it for Free
Create your barcodes right now!
On-Line Barcode Generator Service
How does it work?
Go to the main FAQs page

How does it work?
The barcode application that receives requests and shows barcode images is installed on our Internet server.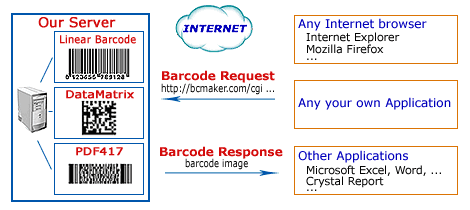 To be able to use our barcode service, you have to know the URL of our barcode application. Here are the URLs of our demo barcode generators:
| | |
| --- | --- |
| Linear Barcode: | https://www.bcmaker.com/cgi-bin/barcgid |
| DataMatrix: | https://www.bcmaker.com/cgi-bin/dmtxcgid |
| PDF417: | https://www.bcmaker.com/cgi-bin/pdf417cgid |
You can change the parameters in order to get barcodes that you need.
The parameters are specified in the URL after the '?' character.
For example, to get the barcode of '123456789', you should specify the data parameter:
?data=123456789
You can use several parameters at a time. You can add them using the '&' character. For example:
?data=123456789&bcolor=ffff00
You can see the parameters of our barcode generators here:
Linear Barcode parameters
DataMatrix parameters
PDF417 parameters
Thus, in order to get a barcode image in your application, on your HTML page, etc., you just have to specify the barcode URL correctly. For example, here is a URL for creating an EAN-13 (UPC) barcode:
https://www.bcmaker.com/cgi-bin/barcgid?data=012345678912&btype=11&talign=4&xdim=2&h=100
Supported Barcodes

Linear Barcodes
Our OnLine Barcode Generator supports all popular barcode types: Interleaved 2 of 5, Industrial, Code 39, Code 39 Extended, Code 11, Codabar, MSI, Code 128 (Auto, Set A, Set B, Set C), EAN Addon-2, EAN Addon-5, EAN-8, EAN-13, EAN-14, UPC-A, UPC-E, UCC/EAN 128, SSCC-18, PostNet, PlaNet, Code 93, Code 93 Extended and ITF 14.

DataMatrix
supports ECC-200 error correction. ECC200 is the newest and most standard version of data matrix error correction. It supports advanced encoding and error checking with Reed Solomon error correction algorithms.

PDF417
PDF417 is a high-capacity two dimensional bar code developed by Symbol Technologies, Inc. A PDF417 symbol can hold approximately 2000 characters of information.